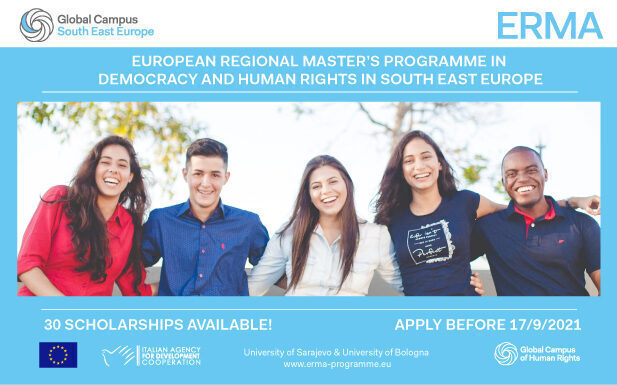 CALL FOR APPLICATIONS AY 2021-22
Global Campus South East Europe invites all interested candidates to apply for the 21st generation of the European Regional Master's Programme in Democracy and Human Rights in South-East Europe (ERMA).
ERMA is a one year interdisciplinary Master's programme coordinated by the University of Sarajevo (UNSA), Center for Interdisciplinary Studies (CIS) and the University of Bologna (UNIBO), Department of Political and Social Sciences. Our students have the benefit of studying in a highly international environment, attending lectures and workshops held by over 40 professors and experts from 11 partner universities:  University of Bologna, Italy; University of Sarajevo, Bosnia and Herzegovina; University of Banja Luka, Bosnia and Herzegovina, University of Belgrade, Serbia; Karl Franzens University of  Graz, Austria; University of the Ruhr, Germany; University of Peloponnese, Greece; University of Zagreb, Croatia; New Bulgarian University, Bulgaria; University Ss. Cyril and Methodius, North Macedonia; and University of Pristina, Kosovo*, and other partner organisations. The Programme awards students with 60 ECTS and a double-degree diploma of both founding universities (UNSA and UNIBO).
The programme is intended for students who wish to combine studies with practical and field research experience in human rights and democratization issues. Human rights and democracy are cross cutting themes among different disciplines of study, such as political science, social sciences, law, sociology, and philosophy, therefore ERMA fosters an interdisciplinary approach within all the subjects studied. Programme covers topics such as Foundations of human rights; Nationalism, identity and conflict; Democratisation and EU integration; International human rights norms and standards, Mechanisms of human rights protection and implementation as well as Research methodologies. Aside from attending lectures at the University of Sarajevo, students serve a 6 week internship and spend one month at the University of Bologna, Italy.
REQUIREMENTS  
Up to 36 students will be selected from the following target groups:
Target group I (25 places): Citizens of Albania, Bosnia and Herzegovina, North Macedonia, Montenegro, Serbia and citizens of Kosovo (who hold a passport of a country recognized by BiH).
Target group II (5 places): Citizens of the European Union countries, Azerbaijan and the Russian Federation.
Target group III (up to 6 places): candidates from other countries.
I ACADEMIC BACKGROUND
The university degree of the applicants must be earned during studies lasting either 4 or 5 years (3+2) with a previously earned degree of a minimum 240 ECTS. Candidates must hold a university degree in social sciences or humanities from an accredited university.
II ENGLISH LANGUAGE PROFICIENCY
Candidates have to provide evidence of their English language proficiency. The Master Programme recognizes the following international English Language certificates:
TOEFL – minimum 560 paper-based, 220 computer-based, 83 IBT;
IELTS – minimum band 6.5, no less than 6.0 in any of its subsections;
CAE and CPE Cambridge exams, minimum B2.
Applicants with 1. English as a native language, 2. a university diploma in English language and literature, and 3. those who had previous university education in English language are exempt from providing a separate proficiency certificate. Such candidates shall submit transcripts or certificates issued by their respective universities.
SCHOLARSHIPS AND TUITION
Students from TGI (25 students) and TGII (5 students) receive the following financial support during their studies:
Study grants covering regular living costs (November to July) in the amount of 4.500€ gross.
Reimbursements (travel, health insurance, diploma recognition etc.) in the overall amount of 1.200€.
Costs of lodging and dining (full board) covered by the programme during the term in Italy.
Students of TG III are self-funded. These students are expected to cover all their living and travel expenses as well as the costs of Term III lodging in Italy (3150 Euros). The students are encouraged to secure funding through other sources.
Depending on the number and the quality of applications, the Programme reserves the right to offer several self-funding places to TG II candidates.           
TG I: No tuition fee. Enrolment costs 200 €.
TG II: 2.000 €.
TG III: 2.000 €.
APPLICATION DOCUMENTS       
The application documents must be either originals or certified copies in English language. When the original document is not in English language, a translation must be provided, together with the original document or its certified copy. The translation must be done by an official translation service (verified with a stamp) or your university/college.  
Application Form – Download here and fill out
English language certificate
University diploma (or a graduation certificate) (both BA and MA where applicable)
Academic records/transcript (both BA and MA where applicable)
Citizenship certificate
Birth certificate
Passport photocopy (page with personal data and expiry date only)
Note: Scans of certified copies must include pages with the certification stamp. Late and incomplete applications will not be considered.
HOW TO APPLY?  
Check the requirements to evaluate your eligibility.
Download and fill out the Application form.
Collect all the required documents and prepare electronic versions, following the instructions above.
Enter the online form below, fill out all the required sections and upload the required documents (no larger than 10 MB) by the 17 of September 2021.
IMPORTANT: Selected students will be required to submit all the required documents in hardcopy to the Programme at enrolment in the first week of November 2021. All diplomas issued by universities from countries other than Bosnia and Herzegovina (BA and MA) need to be recognised by the University of Sarajevo. The students should start with the process of diploma recognition at the enrolment in the Programme. Applying for a temporary residence permit within 90 days from entering Bosnia and Herzegovina is obligatory for all foreign students. For more information about the residence permit, please check www.sps.gov.ba
---
DOWNLOAD DOCUMENTS
---
CONTACT US 
---
FOLLOW US
Facebook | Instagram | Academia Edu | Flickr
---
[1] This designation is without prejudice to positions on status and is in line with UNSC 1244 and the ICJ Opinion on the Kosovo Declaration of Independence.