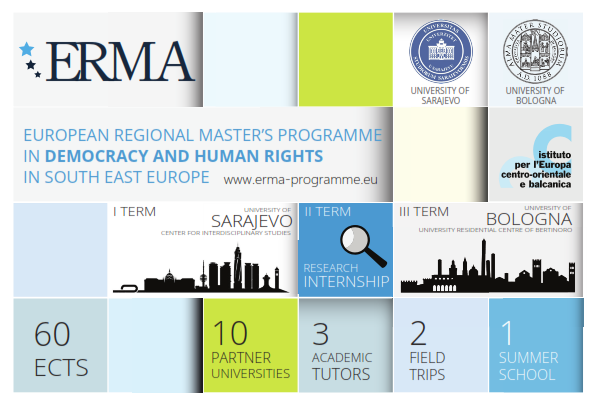 WHAT IS ERMA
The European Regional Master's Programme in Democracy and Human Rights in South East Europe is a one year, full time, interdisciplinary Programme, lasting from November until October. Its aim is the development of democracy and human rights in South East Europe. It is a joint initiative by University of Sarajevo, CIS Center for Interdisciplinary Studies and University of Bologna, IECOB Institute for Central Eastern and Balkan Europe. ERMA is jointly co-financed by the European Union through the EIUC (European Inter-University Centre for Human Rights and Democratization) and the Ministry of Foreign Affairs of Italy via the Embassy of the Republic of Italy to Bosnia and Herzegovina. The Programme is awarding the students with 60 ECTS and a double-degree diploma of both founding universities (UNSA and UNIBO).
The Master Programme is an academic educational activity intended for students that wish to combine studies with practical  and  field  research  experience  in  human  rights  and  democratization  issues. ERMA is characterized by an interdisciplinary approach recognizing that human rights are a crosscutting theme among different disciplines of study, such as political science, social sciences, law, sociology and philosophy. Enrolled students have the benefit of studying in a highly international environment together with colleagues from all over the region, European Union and the world, attending lectures and workshops held by over 40 professors from  10 partner universities: University of Bologna, University of Sarajevo, University of Belgrade, Karl Franzens University of  Graz, University of the Ruhr, University of Peloponnese, University of Zagreb, New Bulgarian University, University Ss. Cyril and Methodius, Higher School of Economics-National Research University, Moscow. ERMA is co-directed by Professor Stefano Bianchini from the University of Bologna and Professor Asim Mujkić from the University of Sarajevo.
The Master Programme promotes the development and realization of young generations of officials for state management, inter-governmental and non-governmental  organizations,  for   universities  and  think-tanks  in  Albania,  Bosnia  &  Herzegovina, Kosovo, Macedonia, Montenegro and  Serbia, as well as in  the countries belonging to the EU, the rest of Europe, and worldwide.