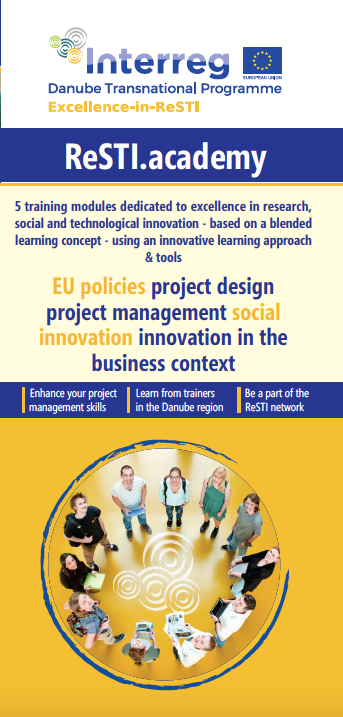 As part of the Excellence-in-ReSTI program, financed by the European Commission, online educational platform, ReSTI.academy, has been created with the aim to foster the acquiring of new skills and knowledge in project management. Professors from the Faculty of Economics at the University of Sarajevo were actively engaged in creating the content for ReSTI.academy, thus opening space for project managers from BiH, or those who wish to become one, to take part in this program. The goal of ReSTI.academy is to contribute to increasing the number of submitted projects from Bosnia and Herzegovina and to a greater success rate in finding financing for innovative ideas.
The ReSTI.academy curriculum aims to enhance the skills of individuals engaged in research, and those working on social and/or technologically innovative projects. The program is comprised of five modules and 20 topics, such as Politics of the EU, Project design, Project management, Social innovations and Innovations in business. ReSTI.academy is based on "Five-Door" approach to learning which was specifically developed for this project. The first part represents the library as a site where necessary materials and resources are gathered in one place for easier access, second is the coffee shop as a place for socialization and exchange of ideas, next are playground and forest as spaces where one learns by observing, and final part entails reflecting on what has been learned.
After successfully completing the project, our students will have open access to ReSTI.academy, so that they can access the online educational platform free of charge and at a time most suitable for them. All materials can be found on the following link https://resti.academy, and they are also available in English. All five modules can be accessed, or you can choose the topics that are of your specific interest.