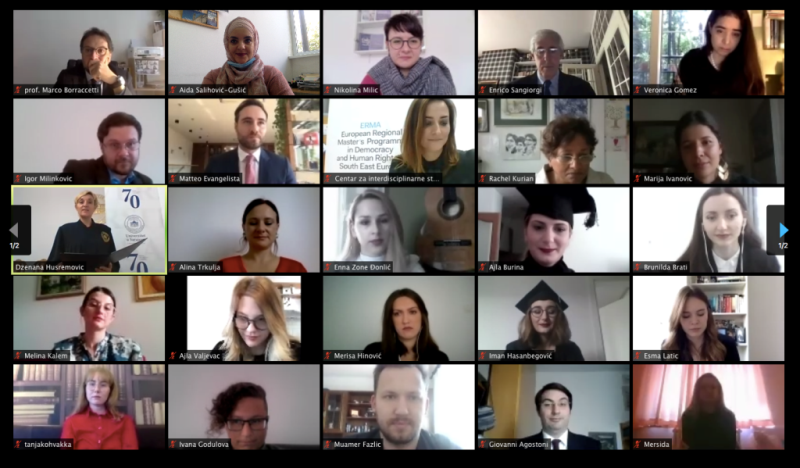 The Graduation Ceremony for 25 graduates of the European Regional Master's Programme in Democracy and Human Rights (GCSEE/ERMA) was held online on Thursday, October 29, 2020. University professors, graduates of the ERMA program and their friends, family members were among the guests at the Ceremony.
The Ceremony was opened by the speeches given by the Vice-Rector for Teaching and Students Affairs of the University of Sarajevo Prof. Dzenana Husremovic, the vicerector for Teaching and Education of the University of Bologna prof. dr. Enrico Sangiorgi, and the Deputy Head of Mission of the Embassy of the Republic of Italy in Bosnia and Herzegovina, Mr. Matteo Evangelista.
The introductory speech was given by Veronica Fabiana Gomez, the president of the Global Campus of Human Rights. The student representative for 2019/2020, Emina Ema Ibisevic shared her experiences from this prestigious study program. Prof. Nenad Markovikj spoke to the guests attending the online ceremony, both as an alumnus and member of the International Academic Council The program co-directors prof. dr. Marco Borraccetti and prof. dr. Asim Mujkić presented the report for 2019/2020 and announced the names of the students who were awarded this year for their academic success and the best final papers. Giovanni Agostoni won the Honorary award "Professor Zdravko Grebo", while the Global Campus best thesis award was given to Melina Kalem. ERMA Best theses Awards went to Tanja Kohvakka, Angela Campos Fernandez, Giovanni Agostoni and Esma Latic, and the Global Campus Internship Award went to Esma Latić for her excellent academic success.
Over 550 students have graduated from the GCSEE/ERMA program since a.y. 2000/21, mostly from the Southeastern Europe, the European Union, and other countries. The students will be awarded a double degree, from the University of Sarajevo and the University of Bologna.
The GSEE/ERMA programme was founded by mutual efforts of several universities from the Southeastern Europe and the European Union. Since 2000, the ERMA program has been financed by the European Union and the Ministry of the Foreign Affairs of the Republic of Italy, through the Italian Agency for Development Cooperation (AICS). For seven years, the EU has been funding the program through the Global Campus of Human Rights.
The University of Sarajevo and University of Bologna, wholhartedly congratulate the students on their graduation and welcome them to the Alumni Network, wishing them all the best in their professional careers.