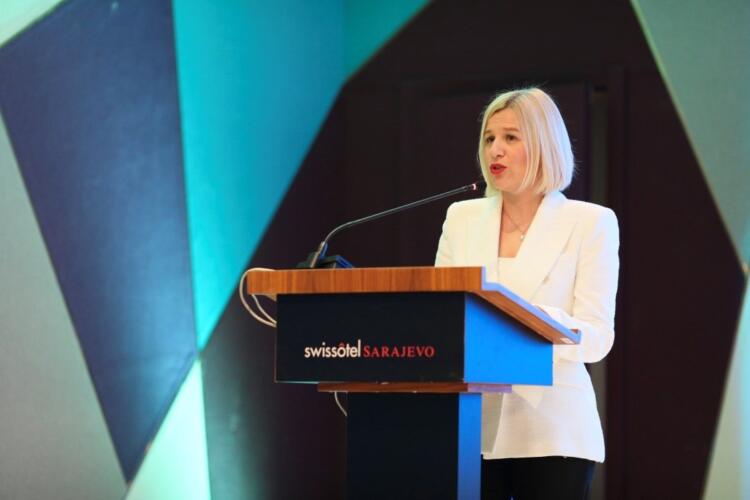 Nermina Voloder is a highly educated and accomplished individual with a passion for promoting democracy and human rights. She is ERMA alumni generation 2013. Prior to this, she earned her Bachelor's degree from the Faculty of Political Sciences in Sarajevo, specializing in Journalism. She has conducted extensive research on issues of transparency, accountability, and good governance in public institutions. Currently, Nermina is the Country Director for the Westminster Foundation for Democracy in Bosnia and Herzegovina. She enhances women's engagement in public affairs and politics while tackling youth unemployment through policy implementation to build a prosperous and equitable society.
What inspired you to pursue a career in promoting democracy and human rights in Bosnia and Herzegovina?
I was always interested in how systems and institutions are built and how they affect people's lives. However, if I had to pinpoint a specific event or period, I believe that spending my childhood in a war-torn country and witnessing destruction and insecurity on a daily basis profoundly changed my life and my understanding of the world. If I had to mention a specific person, my grandmother and mother have always been an inspiration to me. They were the glue that held the communities together, but being women, I believe they were not given the same opportunities and resources to fulfill their potential. I think we owe it to them and to the future generation to do everything we can to build a more just and fair society.
How has your education and professional background prepared you for your current role as country director for the Westminster Foundation for Democracy?
I came to WFD after years of doing policy analysis and supporting public institutions to advance their levels of transparency, accountability and engaging with civil society and affected groups to improve the overall decision-making and quality of service delivery. WFD is an organization working to tackle systemic issues, such political and social exclusion, so was a natural fit. Also, I spent five years working as a journalist and had a chance to learn first-hand about the problems faced by the different groups in BiH, political dynamics and institutional dysfunctionalities, and this helped me a lot in developing WFD's programmes in BiH to make a real impact. However, what made a difference in my career was an education I received participating in ERMA programme and enriching experience of studying with diverse groups students from different countries and backgrounds. Enrolling ERMA was one of the best decisions I've made, and the programme has provided a strong foundation for my future career and equipped me with knowledge and tools, that I did not have at that point, to make my contribution in promoting human rights.
What have been some of the biggest challenges you've faced in your work to enhance women's engagement in public affairs and politics in Bosnia and Herzegovina?
Working with women leaders is the most rewarding part of my work in WFD. However, women face many obstacles, and they are still under-represented in political and economic life. One of the biggest challenges to women's leadership is the hostile environment and violence that exists not only in domestic life, but also in political and public sphere. Female politicians are frequently exposed to online violence, most commonly in the form of misogynistic and sexualised threats. Violence against women in politics also goes underreported and is not taken seriously until it escalates into physical violence. This topic remains a taboo, as women are reluctant to speak about it and call out the perpetrators, out of fear that they would be perceived as weak or disloyal or exaggerating. Women politicians are often discouraged from publicly voicing their opinions, which undermines democratic processes and creates an unfavourable environment for greater participation of women in decision-making. Social norms and stereotypes that women are not cut out to be leaders, in addition to unpaid domestic work and child-care as a sole responsibility of women, are some of the main systemic barriers holding women back.
Can you tell us about a specific project or initiative that you're particularly proud of that addresses youth unemployment?
I am most proud of the work we are doing to make the voice of young people heard and to create a space for young people to shape public policies and influence government decisions, especially those affecting them directly. Bosnia and Herzegovina has one of the highest youth unemployment rates in the world and our mission was to create a broad coalition of experts, parliamentarians, activists and entrepreneurs to draw government's attention to this problem and propose both short-term and long-term solutions. Last year, together with partners, we supported the first thematic session of the Youth Committee of the Parliament of the Federation of BiH which resulted in adoption of new measures to improve the position of young people in BiH. This session brought closer young people to the decision-makers, providing them with a route to articulate their needs and problems and to increase the sensitivity and responsiveness of the elected officials to the youth issues. High-quality and original policy research was also an important part of this process. We were the first organization to calculate the costs of youth emigration from Bosnia and Herzegovina and demonstrate the price we pay as a country when young people leave. The study on the purpose and impact of youth employment programmes in BiH helped us see the gaps in the implementation and develop recommendations to improve the effectiveness of these measures. This shows that changes, no matter how small, are possible. As a policy maker, you don't know how to address young people's problems and you don't know where to start? Just ask young people.
In your opinion, what are some of the key ingredients for building more inclusive democratic institutions in Bosnia and Herzegovina? In which manner youth in BiH can contribute?
On an individual level, I think sense of justice, perseverance and solidarity are the key elements to creating inclusive societies and systems where everyone would have equal opportunities. Also, media and political literacy and education on human rights (speaking as a true ERMA alumna) is what makes difference between active citizens and passive bystander. Young people can play a key role. The current political context has systemically undermined the youth as potential agents for change, but through my working seeing many, many example of young people creating social value, serving their communities and actively challenging the establishment and outdated policies, I cannot but feel positive about the future.