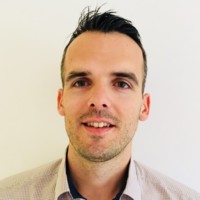 ABOUT YOU
I'm working as a Project Coordinator at UN Migration Agency IOM on the WB Aware regional project implemented in four Western Balkans countries. I'm also a PhD student at the Center for Interdisciplinary Studies (CIS). I'm interested in monitoring and evaluation and M&E is the topic of my PhD research.
2. WHY DID YOU CHOOSE ERMA?
I decided to apply for the ERMA program mostly because I knew a lot of previous ERMA students. With some of them, I had the pleasure to work. ERMA, unlike any other master's program available in BiH, enables students to work with colleagues from different parts of the world and it also enables students to have an interdisciplinary understanding of social realities. This was my main motivation for applying for the ERMA program.
3. WHAT DID YOU MOSTLY LIKE ABOUT THE PROGRAMME?
I mostly liked the fact that many people who were engaged in ERMA became my colleagues in my professional career. ERMA also created some sense of connection between its former students. I also stayed in touch with most of my professors from ERMA. To some extent decision to engage in PhD on CIS was based on my previous experience from ERMA. An interdisciplinary approach is at the heart of the ERMA program and this makes ERMA unique compared to all other available master's programs in BiH.
4. WOULD YOU RECOMMEND IT
I would recommend ERMA to everyone interested in learning about interesting topics from an interdisciplinary perspective but also to those who are interested in establishing new friendships and starting their careers in international organizations.