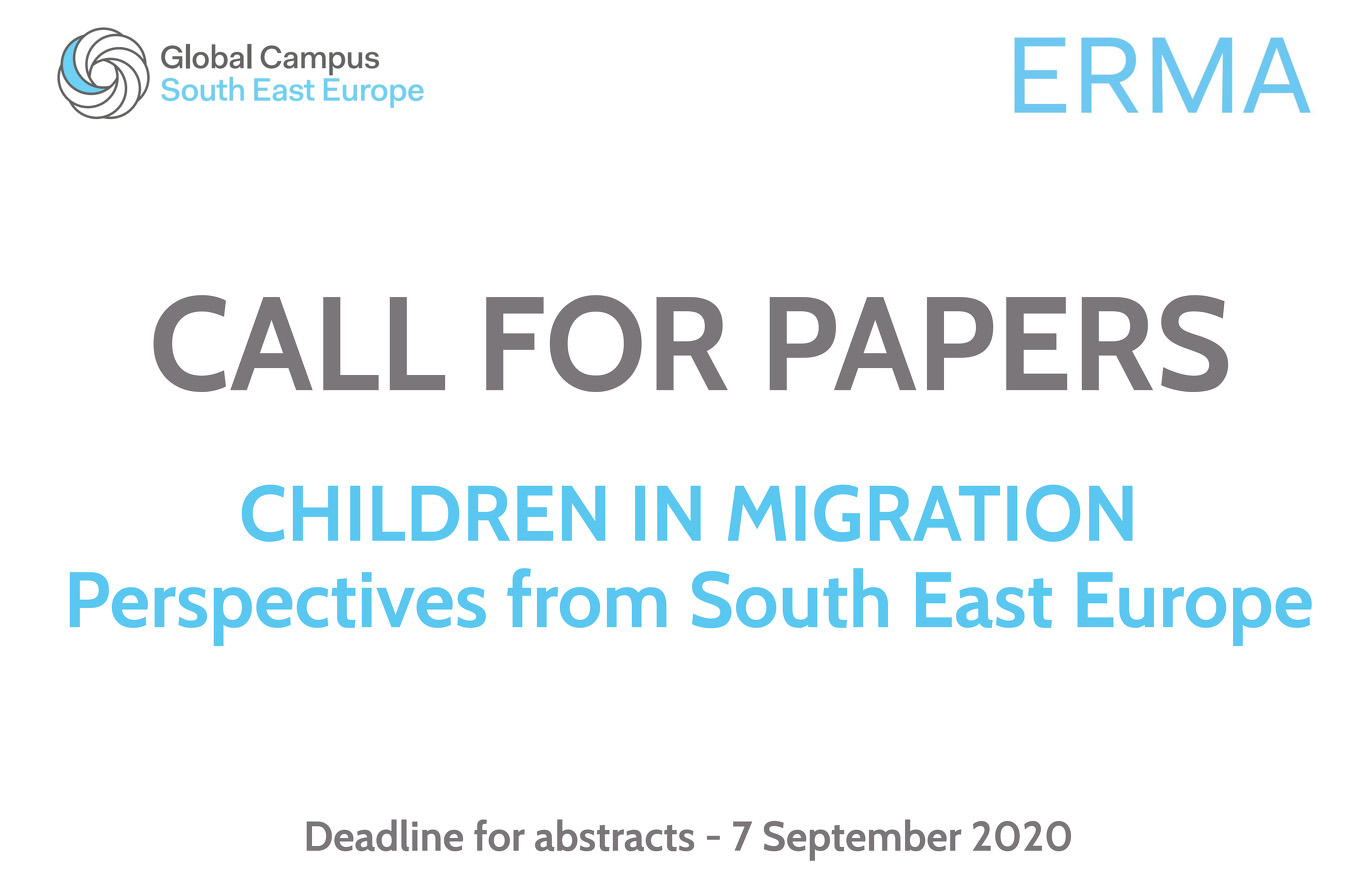 ______________________________________________________________________________
The Global Campus South East Europe / European Regional Master in Democracy and Human Rights in South East Europe (GCSEE/ERMA) is glad to announce the call for papers for the edited volume Children in migration: perspectives from South East Europe.
Deadline for abstracts submission: 7th September 2020
_____________________________________________________________________________
ABOUT GCSEE/ERMA
GCSEE/ERMA is a one-year interdisciplinary Master's programme coordinated by the University of Sarajevo, Center for Interdisciplinary Studies and the University of Bologna, Department of Political and Social Sciences. The programme is co-financed by the European Union and the Italian Agency for Development Cooperation (AICS) supported by the Embassy of the Republic of Italy to Bosnia and Herzegovina. The GCSEE/ERMA is a proud member of the Global Campus of Human Rights (GC), an interdisciplinary centre of excellence supported by the European Union and other partner institutions, whose main aim is to continually promote human rights and democratisation through education, specialised training, and research cooperation worldwide. It has a broad network of academic partners of over 100 universities within seven regional headquarters in Pretoria, Beirut, Bangkok, Yerevan, Buenos Aires, Sarajevo/Bologna and Venice. Since 2019, the GC has been working in close cooperation with the Right Livelihood Foundation with the intention to promote children's rights worldwide.
RATIONALE
Latest UNICEF report highlights that some 45,650 children in migration, including 12,800 unaccompanied or separated children, were present in Greece, Italy, Bulgaria and the South East Europe (SEE) at the end of 2019. The available data also indicates that migrant and refugee children in these countries still face considerable challenges in terms of, but not limited to, access to basic rights and protection, access to asylum, social inclusion, social care, education, health and psychosocial support. Having in mind the scarcity of academic research on these issues, GCSEE/ERMA seeks to fill the gap and provide interdisciplinary analysis of specific issues around migrant and refugee children in the SEE region. The aim is to bring together contributions that, by shedding new light on the core child protection aspects, will have important theoretical implications and provide valuable knowledge for designing evidence-based interventions and social policies.
EDITED VOLUME
The selected contributions will be published in an edited volume produced within the Children in Migration SEE project, with the overall purpose to strengthen education, research, training, network-building and advocacy for the rights of children in migration within the GCSEE/ERMA academic network and beyond. Its primary goal is to produce a high-quality research on the position of children in migration in SEE region and to disseminate the knowledge among human rights students, university students, academia, relevant stakeholders and wider public. Each contribution should address current developments in the area of children's rights in migration in SEE region or provide an overview or analysis of the position of refugee and migrant children over the specific period of time. Articles focusing on one country should strive to provide a regional scope, context and/or impact.
Depending on the country covered and the nature of developments, the contributions could cover issues and/or good practices related to:
Protection of children in migration from violence and abuse,
Unaccompanied or separated children: alternative care, guardianship system, and related issues,
Legal status including access to asylum procedure, statelessness and child participation,
Migration-related detention of children in light of the UN Global Study on Children Deprived of Liberty,
Integration and naturalisation of refugee children,
Right to education,
Right to highest attainable standard of health including psychosocial support,
Implications of COVID-19 related measures on migrant and refugee children.
Contributions can fall into one of these categories:
Original research papers presenting one or more empirical studies (cross-sectional and interdisciplinary papers are all welcome),
Review articles providing a systematic review and/or meta-analysis,
Theoretical papers discussing innovative theoretical developments,
Policy papers focusing on different aspects related to children in migration.
We welcome submissions from GCSEE/ERMA programme students, alumni and lecturers. Contributions are also welcomed by professors, researchers and practitioners, as well as MA and PhD students from one of our 11 partner universities: University of Sarajevo, University of Bologna, University of Graz, University of Banja Luka, New Bulgarian University, University of Zagreb, Ruhr-University Bochum, University of Peloponnese, University of Pristina, University Ss. Cyril and Methodius, University of Belgrade.
SUBMISSION DETAILS
Interested authors are invited to submit:
Brief article proposal – an abstract including the working title, aim, and methodology in English language (maximum 700 words) to Alina Trkulja at alina.trkulja@cis.unsa.ba and Nikolina Milić at nikolina.milic@gchumanrights.org no later than 7th September 2020 with the 'Submission for Edited Volume' in the subject of the email. If a proposal is a section from a thesis or a dissertation authors should indicate this in the submission email.
A short biography (no more than 200 words) indicating current job title, expertise related to the proposed topic of the article and affiliation to the GCSEE/ERMA programme or one of the GCSEE/ERMA partner universities.
SELECTION AND COOPERATION
Abstracts will be reviewed by the GCSEE/ERMA committee in September 2020. Authors of selected proposals will be informed about results in October 2020 and invited to write a contribution for this edited volume in cooperation with the editorial board. Expected length of the final paper is max 7,000 words (excluding footnotes and bibliography). Selected authors will sign a contract and receive remuneration between 800 and 1200 Euros (gross) depending on the originality of the research proposed and conducted.
Contracted authors are expected to follow the established project timeline, present the working versions in Sarajevo (February/March 2021) and submit the final paper with all the revisions no later than July 2021. All papers will undergo single-blind peer review and the editorial review. Publication is expected in the first half of 2022.
For additional information feel free to contact Nikolina Milić: nikolina.milic@gchumanrights.org.