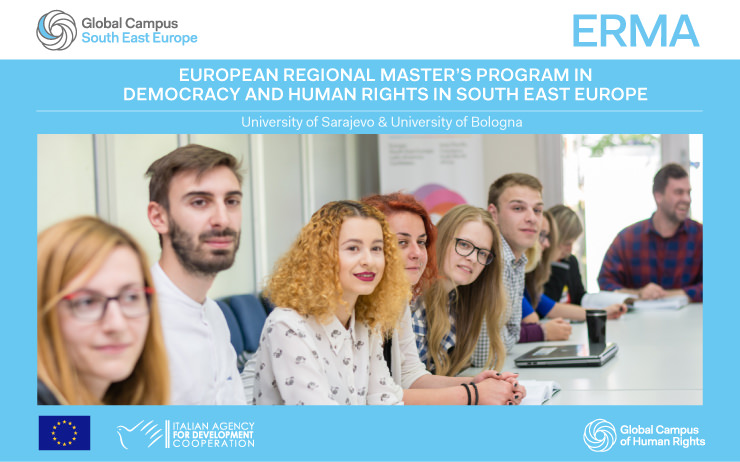 The Global Campus South East Europe – European Regional Master's Programme in Democracy and Human Rights in South East Europe (GC SEE/ERMA), is a one year interdisciplinary Master's programme coordinated by the University of Sarajevo (UNSA), Center for Interdisciplinary Studies (CIS) and the University of Bologna (UNIBO), Department of Political and Social Sciences. GC SEE/ERMA is a proud member of the Global Campus of Human Rights (GC), an interdisciplinary center of excellence supported by the EU and other partner institutions, whose main aim is to continually promote human rights and democratization through education, specialized training, and research cooperation worldwide. It has a broad network of academic partners within seven regional headquarters in Pretoria, Beirut, Bangkok, Yerevan, Buenos Aires, Sarajevo/Bologna and Venice. GC SEE/ERMA is co-financed by the European Union through the GC and the Italian Agency for Development Cooperation (AICS), supported by the Embassy of the Republic of Italy to BiH. The Programme awards students with 60 ECTS and a double-degree diploma of both founding universities (UNSA and UNIBO).
GC SEE/ERMA is an academic educational Programme intended for students who wish to combine studies with practical and field research experience in human rights and democratization issues. Recognizing that human rights are a crosscutting theme among different disciplines of study, such as political science, social sciences, law, sociology, and philosophy, ERMA fosters an interdisciplinary approach. Students have the benefit of studying in a highly international environment, attending lectures and workshops held by over 40 professors and experts from 11 partner universities: University of Bologna, Italy; University of Sarajevo, Bosnia and Herzegovina; University of Banja Luka, Bosnia and Herzegovina, University of Belgrade, Serbia; Karl Franzens University of Graz, Austria; University of the Ruhr, Germany; University of Peloponnese, Greece; University of Zagreb, Croatia; New Bulgarian University, Bulgaria; University Ss. Cyril and Methodius, North Macedonia; and University of Pristina, Kosovo[1]. Students explore areas such as the philosophical foundations of human rights; principles of democracy; theories and issues of ethnicity, nationalism and religion; economic, social and cultural rights, as well as the mechanisms for human rights protection and implementation.
All interested in human rights and democracy in South East Europe wishing to study in a vibrant international environment, and graduate from an MA program that offers academic excellence, mobility, work experience, and financial support, are hereby invited to apply for the 20th edition of the #ERMA!
---
APPLY BEFORE: 20 September 2020
---
Discover more about our Programme by browsing through the ERMA related pages on our website!
Contact us info@erma-programme.eu
---
FOLLOW US
Facebook | Instagram | Academia Edu | Flickr
---
[1] This designation is without prejudice to positions on status, and is in line with UNSC 1244 and the ICJ Opinion on the Kosovo Declaration of Independence.