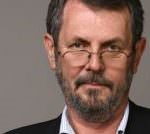 Prof. Zdravko Grebo
Honorary President
z.grebo@pfsa.unsa.ba
---
Honorary President of the ERMA Programme, Professor Emeritus at the School of Law of the the University of Sarajevo. He has been the director of the Centre for Interdisciplinary Studies since its establishment until 2007.
Professor Grebo has participated in drafting the alternative Constitution for Bosnia and Herzegovina in 1990. He was founder of the Open Society Foundation – Bosnia and Herzegovina and its chair between 1992 and 1997. He is also a member of PEN Centre. Professor Grebo is member of the International Association for Theory and Philosophy of Law and secretary of the Legal Science Chamber at the Academy of Science and Art of Bosnia and Herzegovina. He is laureate of many academic awards and distinctions among which the 'Conference of European Rectors', Roosevelt Foundation 'Four Freedoms Award' and the 'Palm Academic Award' of the French Government. Professor Grebo has published five books and more than 200 scientific articles in the field of law.
---
Prof. Marco Borraccetti 
---
Co-Director of the ERMA Programme as of 2018, is an Assistant professor at the Department of Political and Social Sciences in the Forli Campus of the Bologna University.
He is a Researcher of European Union Law at the Faculty of Political Science "Roberto Ruffilli." Prof. Borraccetti main research interests are European Union, Migration, Mobility, Development, Fundamental Rights and Court of Justice. Prof. Borraccetti has been participating in numerous European projects throughout his professional career. He has been extensively writing on migration, human trafficking, European Union, fundamental rights, etc.
---
Prof. Asim Mujkić
Co-Director of the ERMA
asim.mujkic@fpn.unsa.ba

---
Co-Director of the ERMA Programme and a full professor at the Faculty of Political Sciences, University of Sarajevo teaching Philosophy; and Ethics and the Political Elites. He has published five books and more than 80 scientific articles in Bosnia and Herzegovina and abroad amongst which: Short History of Pragmatism (2005); We, the citizens of the Ethno polis (2007), and Justice and Ethno-nationalism (2010). Professor Mujkić is also the President of the Association of Political Sciences in Bosnia and Herzegovina (2007) and Vice-Editor in Chief of the Review for Art, Science and Social Issues "Echo". From 2003-2005 he has been the Head of the Department of Sociology and from 2005-2011, a Pro-Dean for Student Education at the Faculty of Political Sciences, University of Sarajevo.
---
Academic and Development Unit

Mr. Adriano Remiddi

Coordinator of the Academic and Development Unit
adriano.remiddi@unibo.it
---
Adriano REMIDDI is graduate research assistant at the Institute for Central-Eastern and Balkan Europe, University of Bologna (Italy), and coordinator of the academic and development unit of the ERMA programme. From the a. y. 2014/15, he coordinates the Central European Initiative International Summer Schools (21st, 22nd and 23rd editions). Previously he worked as an assistant to the director at the Center for Constitutional Studies and Democratic Development, Johns Hopkins University SAIS Europe. Mr. Remiddi published academic papers for ʹBalkan Social Science Reviewʹ and ʹPECOB/University of Bolognaʹ,  also he wrote analyses for ʹLIMES-Italian Review of Geopoliticsʹ (Rome) and ʹForeign Affairs Portalʹ (Warsaw). Mr. Remiddiʹs expertise is on post-socialist transition and European integration in CEE and SEE; democracy and human rights; migration and diaspora studies.
---

Ms. Alina Trkulja
Senior Academic Tutor
alina.trkulja@cis.unsa.ba
---
Alina Trkulja is an alumna of the ERMA programme class of 2010/11. She defended her thesis on Human rights education Cum Laudae. Alina also graduated Comparative Literature and Art History at the Faculty of Philosophy of the University of Sarajevo in 2010. She is particularly interested in art, activism and social movements, social justice and transitional justice processes in BiH as well as the role of human rights in these processes. She is an ERMA academic tutor since 2011/12.
---
Amila Madžak
Junior Academic Tutor 
amila.madzak@cis.unsa.ba
Amila Madžak finished ERMA programme in 2017, after which she joined ERMA team on a position of a Junior Academic Tutor. She holds a bachelor degree in International and Public Relations at the International University of Sarajevo. She was engaged in the NGO sector and has spent eight months in Brussels doing an internship in a think-tank Bruegel.  Her field of interest revolves around democracy and democratization, political participation, and European integration.
---
Mr. Marjan Icoski
Alumni Relations Manager
marjan.icoski@cis.unsa.ba
---
Marjan Icoski is an ERMA alumnus class of 2014/2015 graduating Cum Laudae from the Programme. He is part of ERMA since 2016, first working as a project assistant through the Global Campus of Human Rights Internship Programme and currently as an academic tutor. Previously, Marjan obtained a BA in Law and LL.M in Civil Law and Civil Procedure from Iustinianus Primus Faculty of Law in Skopje.  His field of interests are international human rights law and European integration with a focus on the Western Balkan Region.
---
Ms. Nina Dragičević
Librarian at Center for Interdisciplinary Studies
mz@hrc.unsa.ba
---
Nina Dragičević is a librarian at the Center for Interdisciplinary Studies of the University of Sarajevo, primarily engaged with Human Rights Centre and ERMA programme. She holds a degree in Library Science and Comparative Literature from University of Sarajevo, where she graduated in 2008. Besides information processing and user services, she actively participates in research projects (bibliographic research, MARC conversions etc.). She has also worked on implementing online Human Rights Observatory: Bosnia and Herzegovina. She was part of the team involved in implementing BiHMe (Bosnian memories) project.
---
Administrative and Financial Unit
Ms. Mariana Hadzijusufović
Coordinator of the Administrative and Financial Unit
mariana.hadzijusufovic@cis.unsa.ba
---
Mariana Hadzijusufovic is the Coordinator of the Administrative and Financial Unit of the ERMA programme on behalf of the University of Sarajevo. Previously she worked as a legal counsellor on refugee issues in the Legal Clinic (UNHCR BO Chisinau) and as ERMA Academic tutor. Mariana holds an international law degree from the State University of Moldova and is an alumna of the ERMA programme class of 2002/03.
---
Ms. Mileva Piralić
Financial Officer
mileva.piralic@cis.unsa.ba
---
Ms. Mileva Piralić graduated at the Faculty of Organizational Siences in Belgrade. Mileva has been Finance assistant-accountant of the University of Sarajevo, since 2007. Previously she worked as a Finance Officer at the Mechanical Faculty of Sarajevo from 1990 to 1992, and as a Finance Assistant in the International Rescue Committee-New York in Bosnia and  Hercegovina in the period of 1996 to 2006.
---

Ms. Adna Oković 
Administrative Assistant
adna.okovic@cis.unsa.ba
---
Adna Oković holds a master's degree in American and English Literature from the University of Sarajevo. As the best student in her class at the Faculty of Philosophy, she was awarded the University Chancellor's Golden and Silver Badge awards. She has been a member of the American Studies Association in Bosnia and Herzegovina since its founding in 2015. Scottish Universities' International Summer School (SUISS) alumna. Ms. Oković has presented research papers at various conferences and symposia in Bosnia and Herzegovina and abroad. Her research interests include: American history, culture and literature, gender studies and pop-culture. She has been working as an assistant for educational programs at the Center for Interdisciplinary Studies since 2018.
---
LECTURERS
Lecturers
| | | |
| --- | --- | --- |
| Title | Name and Surname | Affiliation |
| Prof. | Asim Mujkić | University of Sarajevo |
| Prof. | Nenad Marković | Ss. Cyril and Methodius University, Skopje |
| Prof. | Zdenek Kavan | University of Sussex, England |
| Dr. | Igor Štiks | Faculty of Media and Communications, Belgrade |
| Prof. | Gvozden Flego | University of Zagreb |
| Prof. | Marco Balboni | University of Bologna |
| Prof. | Nina Belyaeva | Higher School of Economics, National Research University Moscow |
| Prof. | Victor Bojkov | University of Bologna |
| Prof. | Marco Borraccetti | University of Bologna |
| Prof. | Florian Bieber | University of Graz |
| Prof. | Zrinjka Perusko | University of Zagreb |
| Prof. | Milan Podunavac | University of Belgrade |
| Prof. | Anna Krasteva | New Bulgarian University |
| Prof. | Angela Santese | University of Bologna |
| Prof. | Marco Borraccetti | University of Bologna |
| Prof. | Gordana Duhacek | University of Belgrade |
| Prof. | Nebojša Vladisavljević | University of Belgrade |
| Prof. | Dino Abazovic | University of Sarajevo |
| Prof. | Nikolaos Tzifakis | University of Peloponnese |
| Prof. | Rachel Kurian | International Institute of Social Studies, Erasmus University Rotterdam |
| Dr. | Kalliopi Chainoglou | University of Macedonia, Thessaloniki |
| Dr. | Victor Bojkov | University of Bologna |
| Prof. Dr. | Mladen Domazet | UInstitute for Political Ecology, Zagreb |
| Prof. | Wolfgang Benedek | University of Graz |
| Prof. | Hans Joachim Heintze | University of Bochum |
| Prof. | Gerd Oberleitner | University of Graz |
| Prof. | Dejan Jović | University of Zagreb |
| Prof. | Iavor Rangelov | London School of Economics |
| Prof. | Manfred Nowak | University of Vienna |
| Dr. | Jasminka Džumhur | Human Rights Ombudsman |
| Prof. | Federico Giulio Sicurella | University of Milan |
| Prof. | Dženana Husremović | University of Sarajevo |
| Prof. | Valeria Verdolini | University of Milan |
| Doc. Dr. | Mario Hibert | University of Sarajevo |
| Ass. Prof. | Fedja Kulenović | University of Sarajevo |
| Ms | Alina Trkulja | University of Sarajevo |
| Mr. | Adriano Remiddi | University of Bologna |
| Ms | Amila Madžak | University of Sarajevo |
| Dr. | Denis Graz | Member of Parliament of the Federation of Bosnia and Herzegovina |
| Dr. | Selma Porobić | Assistant professor of International Humanitarian and Social Work Studies at Palacky University |
| Dr. | Nejra Nuna Čengić | Fellow at the New Europe College-Institute for Advanced Studies Bucharest |